Operations/Administration
The ECHO energy-saving campaign
In 2016/2017  Universität Hamburg initiated the ECHO energy-saving campaign at a few of its premises. Posters, buttons, hand-outs, paper thermometers, etc. were distributed to encourage University staff to become more energy-conscious in the following areas:
electricity (especially PC use, lighting)
heating (especially airing and using thermostat vents)
Another 10 universities took part. Magdeburg University, the HIS, and the Fresenius University of Applied Sciences evaluated the campaign and the Federal Ministry for the Environment and Urban Planning provided financial support.  More details soon.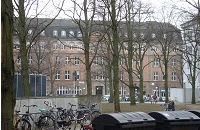 During ECHO's pilot phase in Winter Semester 2016/2017 measures were taken at the "Pferdestall" at Allendeplatz 1 (left) and the Informatics Campus in Stellingen at Vogt-Kölln-Str. ( below). Over 200 people work at each location. At Allendplatz 1 people work in offices, classrooms, the library, the print service, maintenance, and the University shop; at the Informatikum there are offies, classrooms, PC pools, server facilities, and a cafeteria.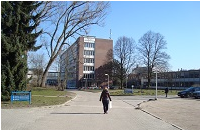 Bicycle repair shop and flea market
The campus bicycle station has several services—for example, a repair shop, a do-it-yourself workshop, and parking—that promote sustainable transport. The first bicycle flea market  held in October 2014 proved popular. The bicycle workshop was initiated by the Free and Hanseatic City of Hamburg.
Fair and Organic Breakfast
The Fair and Organic Breakfast has been held at the AStA Infocafé since 2011 in cooperation with Ökomarkt e.V., Hamburg mal fair, and foodsharing. The event includes counseling services and brief presentations on  sustainable nutrition.
Teams in the Energy and Environment Working Group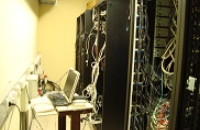 Photo: Westholm
The Energy and Environment Working Group at Universität Hamburg has been an independent forum of University members for more than 10 years and a specialist group in KNU Team 4 since 2016. The group works with the Energy Management Team from Department 9 (Construction Management), the Center for a Sustainable University (KNU), the Occupational Safety and Environmental Protection Unit, and other offices, committees, and institutions at the University. Five local energy teams are working at various University sites (Biocenter Grindel, Chemistry, Informatikum, Jungiusstrasse, Hamburg Observatory) to promote efficient use of energy through small investment measures (replacing light bulbs with LEDs, purchasing energy efficient refrigerators, server room checks, etc.).
The working group also organizes events such as those on energy management and use of hydrogen as an energy storage recently conducted during the German Sustainability Days (DAN).
The energy team for the Hamburg Observatory suggested having an energy check performed on their server room. Servers must be (electrically) cooled at all times because they produce constant heat that currently remains unused.
Life-cycle cost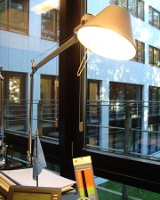 Photo: Westholm
The University sometimes uses whole-life cost analysis when procuring equipment. When the University Administration moved to the premises in Mittelweg, for example, this type of analysis was used to purchase 400 new desk lamps. Purchase price alone was not the determining factor. Instead, a comparison of 2 products was drawn up—a desk lamp with an energy-efficient bulb and one with an LED bulb. The gross cost calculation took the following into account:
the service life of the bulbs (12,000 hours for the energy-efficient TC-D/E 13-watt light bulb vs. 50,000 hours for the 10-watt LED lamp)
the service life of the bulbs (10.91 years for the energy-efficient bulb vs. 45.45 years for the LED bulb) under  given conditions (such as hours used per day)
how long it would take and how much it would cost to replace the bulbs
Using certain parameters (rate of inflation, computational interest rate, development of energy costs, etc.), the University's Department of Construction Management concluded that buying desk lamps with the LED bulbs would be significantly more cost-effective in the long term than buying  desk lamps with the energy-efficient bulbs.
Geothermics for buildings in Bahrenfeld
The Center for Free-Electron Laser Science (CFEL) in Bahrenfeld has had a geothermal heat pump since 2012. It consists of 25 pipes which reach down to a depth of 99 meters. The power provided by the heat pump amounts to 120 kW for cooling and 89 kW for heating. The operation of the heat pump entails annual savings of about €18,000  and reduced CO2 emissions of about 65 t as compared to conventional district heating.
Ökoprofit
 ÖKOPROFIT was founded at the University in 2010/2011. This environmental team implements measures to conserve University resources and makes recommendations for environmentally friendly conduct. An environmental audit within the scope of the ÖKOPROFIT program recognized the University's success on 22 June 2011.
Reusing office supplies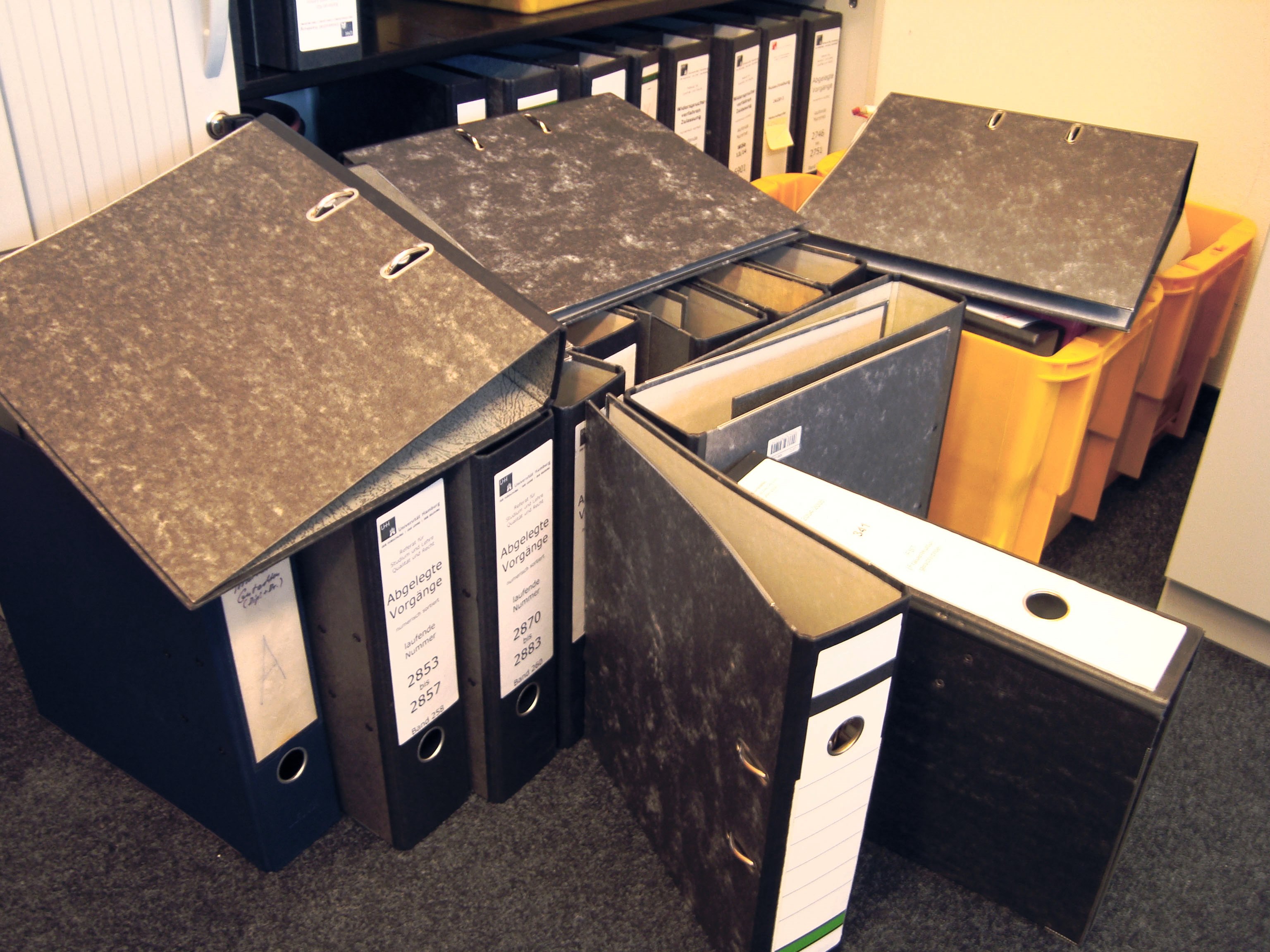 Photo: Westholm
We need some supplies, like folders, only temporarily and these are usually in good condition afterwards.
The University archive and the Mittelweg Service Team encourage the sustainable use of office supplies by regularly providing other departments with left-over supplies such as folders, envelopes, ink cartridges, etc. This reduces waste and saves money.
Sustainability at the University Print Service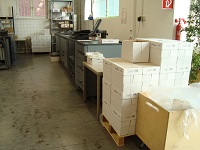 Photo: Westholm
To meet its sustainability goals, the University Print Service starts by choosing the right machines. The printers in operation are listed on the Dow Jones Sustainability World Index and are among the best-rated products in the "economic sustainability" category. In addition, approximately 50% of the paper used is made from 100% recycled paper produced in Schleswig-Holstein. According to the manufacturer, in comparison to paper made from fresh wood (based on 500 sheets of DIN A4 paper), this means:
approx. 80% less water consumption = approx. 108 liters (remaining water consumption:  ~22.2 liters)
approx. 70% less energy consumption = approx. 19 kWh (remaining energy consumption: ~7.5 kWh)
approx. 50% less CO2 emissions = approx. 1.6 kg CO2 (remaining CO2 emissions: 1.4 kg CO2 equivalents)
100% less wood used = 7.5 kg.
The inks used have also been inspected for food safety, 10% of their content is made from biomass, and they emit approx. 40% less CO2, NOX, and SOX as compared to conventional inks (manufacturer specifications). Energy consumption is reduced by optimizing the fusing temperature.
Sustainability reports from oikos
The German Sustainability Days (DAN) focused on sustainability reporting in German higher education institutions. Universität Hamburg also presented its Second Sustainability Report.  The student initiative oikos Hamburg, the KNU, and the University Administration spent over 2 years preparing the report along GRI  (Global Reporting Initiative) guidelines. In areas where these guidelines were not applicable, such as research and teaching, the students developed their own indicators and collected data.
Read the German-language PDF final version. There is also an German-language PDF appendix  with more information.
Vegan cafeteria
For the past few years, a vegan cafeteria initiative has been working to ensure that ingredients are listed and that vegan dishes are offered in the cafeteria run by the Studierendenwerk Hamburg.
Water dispensers in the AStA office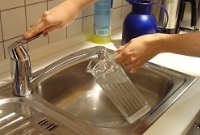 Photo: KNU/Westholm
Universität Hamburg draws its tap water from Hamburg Wasser, Hamburg's main water provider. The water is perfect for drinking because it does not taste of chlorine and is a sustainable alternative to store-bought mineral water. Drinking water at the various properties belonging to Universität Hamburg is obtained exclusively from groundwater drawn from both near-surface and deep aquifers in the greater Hamburg area.
The drinking water from the properties on the main campus and the University Administration in Mittelweg comes from the main pumping plant in Rothenburgsort. It contains natural minerals in the concentrations indicated below. (You can find information on the drinking water analysis for each supply region in Hamburg at https://www.hamburgwasser.de/wasseranalysen.html):
| (in mg/l) | Tap water | Evian | Gerolsteiner |
| --- | --- | --- | --- |
| Calcium | 72 | 80 | 348 |
| Magnesium | 7 | 26 | 108 |
| Sodium | 20 | 7 | 118 |
| Potassium | 2,6 | 1 | 11 |
Despite its excellent quality, groundwater must be treated because, for instance, iron in the water could clog pipes in the long term or our bodies could transform nitrate into nitrite, which is hazardous to human health. Substances that could be hazardous to human health or are undesirable (such as sulfate that must be kept to a minimum due to its unpleasant odor or nitrate that our bodies can transform into hazardous nitrite) are well below the respective limit values specified in the German Drinking Water Ordinance (Trinkwasserverordnung 2001—TrinkwV 2001), which was amended in 2011. The respective values for tap water at University properties as well as for Evian and Gerolsteiner brand water are compared below.
| (in mg/l) | Tap water | Evian | Gerolsteiner |
| --- | --- | --- | --- |
| Eisen | 0,01 | keine Angaben | keine Angaben |
| Chlorid | 32 | 6,8 | 9 |
| Sulfat | 36 | 12,6 | 20 |
| Nitrat | 1,5 | keine Angaben | keine Angaben |
| Fluorid | 0,15 | keine Angaben | keine Angaben |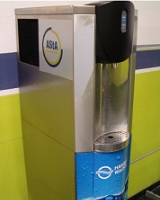 Foto: Westholm
Besides its high quality and superb taste, tap water is ecologically sustainable as it requires no transport or bottling. Tap water is also economically sustainable because it is significantly less expensive than buying mineral water in glass or plastic bottles.
In 2013 AStA (student council) installed a publicly accessible water dispenser in its hallway in the WiWi-Bunker (VMP5). Users can obtain regular and carbonated tap water here free of charge, but must bring their own bottles with them.
---