Climate Savings Book
Climate Savings Book for Hamburg Students 2017/18
What we buy, how we live, what we eat, how we get from A to B—many of the decisions we make every day impact our energy consumption and climate-harming emissions. The Climate Savings Book is a handy guide that shows students how to protect the climate in Hamburg. It has tips on shoppin, eating and drinking, going out, and relaxing in a climate-friendly way, and informs them about sustainability initiatives and how to get involved.
The guide is published by the Ministry of Environment and Energy in Hamburg and the oekom e.V. Verein für ökologische Kommunikation (a publishing house specializing in sustainability and ecology). The project was inspired and created by the Hamburger Hochschulallianz für Nachhaltigkeit (HaHoNa), an alliance between Universität Hamburg (Center for a Sustainable University), the Hamburg University of Applied Sciences (HAW), and the Hamburg University of Technology (TUHH),  formed to build a network to support sustainable development and carry out joint projects.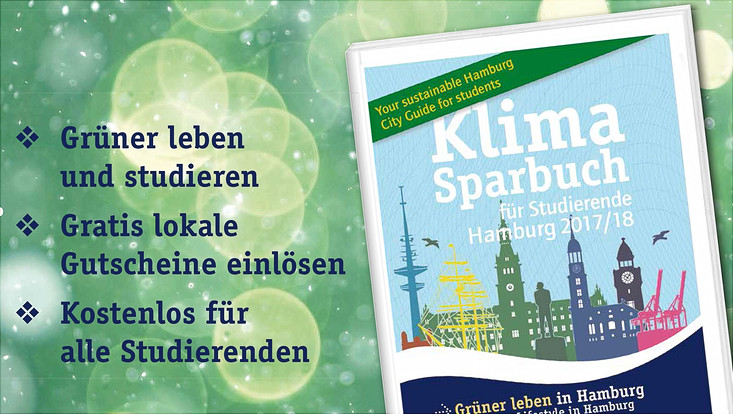 1. Where can I get the Climate Savings Book?
Universität Hamburg students can get hold of the booklet in the Unikontor (Allendeplatz 1, 20146 Hamburg), at the Service Point in the Campus Center (Alsterterrasse 1, 20354 Hamburg), or in the departmental academic offices for free. Only while stocks last!
2. Protect the climate and save money: how does the Climate Savings Book actually work?
Unconventional climate protection tips whet the appetite for greater sustainability in everyday life. This is good for our climate and your wallet. The Climate Savings Book shows you how you can eat, consume, relax, and live while protecting the climate and being ecologically fair.
As well as many practical tips on climate protection, the Climate Savings Book contains loads of incentives to entice you into trying out new things that may have seemed difficult to do, or that you may never have heard of, for instance, a repair cafe, an eco fashion store, an innovative grocery store, or advising on your electricity use. The Climate Savings Book contains many special offers, including vouchers for discounts or freebies.
3. Why does the Climate Savings Book target students?
Students are a particularly important target group for sustainable consumption and environmentally conscious behavior. At this point in their lives, most students start to make their own decisions about the way they want to live and often move to a new city. The Climate Savings Book addresses students in a number of ways: as well as finding out how to protect the environment and save money, they receive vouchers and tips on how they can take action individually to protect the climate in Hamburg.
4. The Climate Savings Book invites you to join in: how?
Do you have more ideas for protecting the climate? Have you already tested our tips or used your vouchers? Would you like to calculate your CO2 footprint? The Climate Savings Book depends on ideas from Hamburg's students. On the climate blog for Hamburg www.klimasparbuch-hamburg.de students can discuss their ideas and post their own contributions. Send texts, photos, films, etc. of your own climate-friendly daily lives to: kontakt"AT"klimasparbuch-hamburg.de.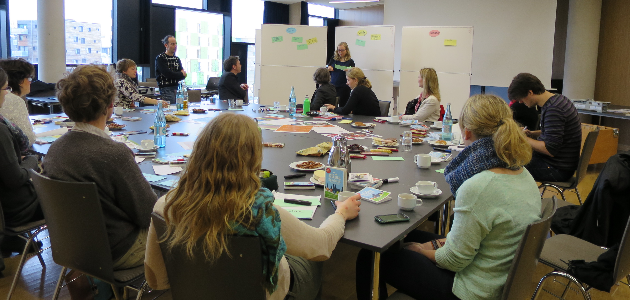 Foto: UHH/Palm
You can find further information about the Climate Savings Book at www.klimasparbuch.net. The Center for a Sustainable University is happy to answer your questions about the Climate Savings Book. knu"AT"uni-hamburg.de.
Funded from climate protection funds of the Free and Hanseatic City of Hamburg.