The KNU-Teams
Steering committee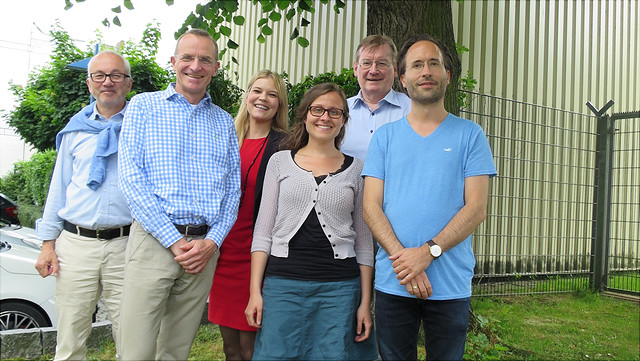 Photo: UHH
Duties
Members

strategic planning
organizing and governing KNU processes
integrating KNU team activities
bringing together sustainability-related research projects (at Universität Hamburg)
providing KNU-wide communication platform
managing funding opportunities and projects

Prof. Dr. Alexander Bassen—director
Prof. Dr. Axel Horstmann—advisor
Prof. Dr. Florian Grüner
Sophie van Rijn —scientific officer
Dr. Claudia T. Schmitt—KNU managing director and scientific coordinator
Dr. Hilmar Westholm—officer
Steering committee and team leaders
KNU steering committee
Team leaders

Prof. Dr. Alexander Bassen—director
Prof. Dr. Axel Horstmann—advisor
Prof. Dr. Florian Grüner
Sophie van Rijn—scientific officer
Dr. Claudia T. Schmitt—
KNU managing director and scientific coordinator
Dr. Hilmar Westholm—officer

Team 1: Prof. Dr. Hermann Held
Team 2: Prof. Dr. Sandra Sprenger
Team 4: Dr. Nicola Ebers
Team 1—Research
Duties
Members

initiating and supporting sustainability-related research projects
facilitating interdisciplinary forums
testing and evaluating sustainability concepts

Prof. Dr. Hermann Held—Team 1 leader (MIN, FNU)
Prof. Dr. Alexander Bassen (KNU, WiSo)
Prof. Dr. Michel Clement (BWL)
Prof. Dr. Michael Friedrich (GW)
Prof. Dr. Jetta Frost (vice president of Universität Hamburg, WiSo)
Prof. Dr. Florian Grüner (MIN – Physik)
Prof. Dr. Axel Horstmann—KNU coordinator (GW
Prof. Dr. Kai Jensen (MIN – Bio)
Prof. Dr. Florian Jeßberger (RW)
Prof. Dr. Andreas Lange (WiSo)
Prof. Dr. Jan Louis (VP3, MIN – Physik)
Prof. Dr. Sighard Neckel (WiSo)
Dr. Harald Schlüter (Abt. 4)
Dr. Claudia Schmitt (KNU managing director and scientific coordination)
Prof. Dr. Michael Schnegg (GW, Institute for Ethnology)
Prof. Dr. Jens Siemon (EW)
Prof. Dr. Frank Steinicke (MIN – Informatik)
Team 2—Sustainability in Education
Photo: UHH/Sukinah
Tasks
Members

fostering exchange on sustainability in research and teaching
collaborating with partners involved in research and teaching
drafting research and teaching proposals
initiating and realizing projects

Revised PDF in German on KNU Team 2 duties, April 2016

Prof. Dr. Sandra Sprenger (leader Team 2, Faculty of Education)
Prof. Dr. Dorothea Alewell (Faculty of Business Administration)
Julia Berndt (student; AG BNE)
Miriam Block (co-leader Team 2, student, AG BNE)
Mirjam Brassler (Faculty for Psychology and K

inesiology

, AG BNE)
Julia Bremer (advisor to the president)
Prof. Dr. Dirk Gilbert (Faculty of Business, Economics and Social Sciences; scientific director for further education at Universität Hamburg)
Prof. Dr. Axel Horstmann (scientific director Universitätskolleg Teaching, KNU advisor)
Prof. Dr. Telse Iwers-Stelljes (vice dean studies and teaching, Faculty of Education)
Prof. Dr. Hans-Christoph Koller (vice leader Team 2, Faculty of Education)
Dr. Julia Kotzebue (Faculty of Mathematics, Informatics and Natural Sciences)
Prof. Dr. Markus Kotzur (Fakultät für Rechtswissenschaft, Prodekan Studium und Lehre)
Prof. Dr. Kerstin Mayrberger (vice leader HUL; Universität Hamburg commissioner for digitization of studies and teaching)
Prof. Dr. Angelika Paseka (Faculty of Education)
Prof. Dr. Gabi Reinmann (scientific leader HUL)
Prof. Dr. Norbert Ritter (vice dean studies and teaching, Faculty of Mathematics, Informatics and Natural Sciences)
Prof. Dr. Susanne Rupp (vice rresident of Universität Hamburg, Humanities)
Dr. Claudia Schmitt (KNU managing director and scientific coordination)
Prof. Dr. Kai-Uwe Schnapp (Faculty of Business, Economics and Social Sciences)
Dr. Bernd Struß (Faculty of Humanities)
Susanne Zemene (leader of Sec. 31: Quality Management and Legal Affairs)
Dr. habil. Hilmar Westholm (KNU advisor)
Team 3—Sustainable Future Postdoctoral Research Group (former)
Team 3 leader: Prof. Dr. Ingrid Gogolin (EPW, Pedagogy)
Name
Research Project
Faculty / Department

Dr. Kesheng Shu (Associate Fellow)

Bioenergy Landscapes in China: Blessing or Curse?

Research group Climate Change and Security (CLISEC)




Das Parlament in der Nachhaltigkeitspolitik

Faculty of Law
Chair for Public Law, Information and Communication Law, Health Law and Legal Theory

Erklärungswissen - Der Nachhaltigkeitsbegriff als Leitidee der Forschung

Faculty of Humanities
Institute of Philosophy

Von Nachhaltigkeit zu Resilienz

Institute for Peace Research and Security Policy (IFSH)

Jana Stöver (Associate Fellow)

Nachhaltige Entwicklung, internationaler Handel und Institutionen

Hamburgisches WeltWirtschaftsInstitut

Nachhaltigkeit durch Marktmechanismen

KlimaCampus, Centre for Globalization and Governance

Connecting the carbon, water, and energy cycles in carbon-rich northern landscapes through a sustainable research program

Department of Biological and Agricultural Engineering at the University of Arkansas

Dr. Kerstin Jantke (Associate Fellow)

Die Potentiale europäischer Feuchtgebiete in ihren Funktionen als Kohlenstoffsenken und Inseln biologischer Vielfalt

KlimaCampus, Research Center Sustainable Environmental Development

Nanopartikuläre Solarzellen und Wärmewandler mit verbesserten Transporteigenschaften durch Vernetzung mit konjugierten Liganden

Leader of the Junior Group "Gekoppelte Hybride Nanostrukturen", Institute for Physical and Theoretical Physics, Eberhard Karls Universität Tübingen

Sustaining Linguistic Diversity in the Information Age: A Survey of Minority Language Vitality on the Internet

Faculty of Education, Psychology and Kinesiology, Department of General, Intercultural and International Comparative Education (EW1)

Dr. Florian Lottermoser (Associate Fellow)




Die gesellschaftliche Verankerung der Energiewende

Faculty of Economic and Social Sciences, Institute for  Soziologie

Social Sustainable Transition and Power: Integrating 'Handling Uncertainty', 'Partizipation', and 'Science-Policy Interaction'

Faculty of Mathematics, Informatics and Natural Sciences (MIN), Informatics and Natural Sciences, BIOGUM

Ethnische Segregation in Schulen: Wo liegen die Herausforderungen, wie können sie bewältigt werden?

Postdoctorial Fellow at "Uni Research Rokkansenteret" in Bergen at the Research Project "Parenting cultures and risk management in plural Norway"

Auswirkungen des Klimawandels auf die nachhaltige Forstwirtschaft

Chair od Applied Biologiy of Wood,  Eberswalde University for Sustainable Development

Dr. Sönke Häseler (Associate Fellow)


Flexibilität für die Energiewende

Faculty of Law, Institute of Law and Economics
Team 4 "Sustainable Higher Education Administration"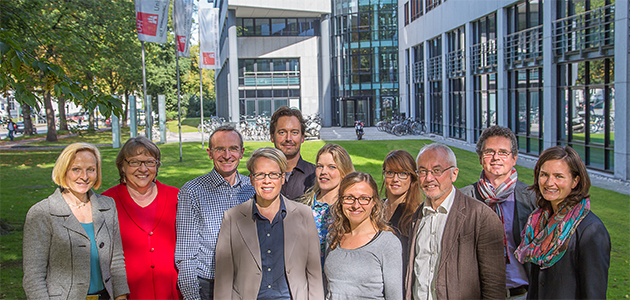 Foto: UHH/Sukinah
Tasks
Members

Institutionalize sustainable administration at the Universität Hamburg
Develop, implement and test sustainable higher education administrative structures
Facilitate the development of sustainable governance

Dr. Nicola Ebers (Team 4 Leader, Head of Organizational Development Unit)
Prof. Dr. Alexander Bassen (Director KNU; WiSo; SozÖk)
Denise Bello (Department Area Management)
Prof. Dr. Timo Busch (WiSo; SozÖk)
Jörg Finger (Professional Assistance of Chancelor)
Lars Gellermann (Deputy Head of Organizational Development Unit)
Katrin Greve (Leader Department 2 – Communication and PR)
Petra Grothe (Leader Department Work Safety and Safety of the Environment)
Petra Litke (Building and Facility Management; AKEU)
Nicole Melzer (Team Leader Unit 74 in the service center procurement campus)
Dr. Daniel Meßner (Dept. 2 – Communication and PR, Editorial Team)
Antje Newig (Equal Opportunity Unit)
Dr. Claudia Schmitt (KNU Managing Director and Scientific Coordinator)
Dr. Bettina Schreyögg (Leader Unit 62 HR Development)
Marco Steinbring (Head of procurement and business travel)
Anita Winkler-Bondartschuk (Leader Dep. 1 Development of University)
Dr. Hilmar Westholm (Officer, KNU)
Dr. Christian Wittenburg (Chemistry, AKEU)
Team 5 "Student Projects for Sustainability"
Function
Current Teams/Members

Team 5 functions as a networking platform for KNU funded student initiatives for sustainability at the UHH

Dies Oecologicus
Geokino*Kollektiv

MIBAS debates on CSR
oikos project team "Ecomap"
oikos project team "Springmeeting"
oikos project team "Cupchange"
Plurality in Macroeconomics
Student Conflict Resolution and Mediation
Sustainability Slam
WurzelWerk (Urban garden project at the UHH)