Dr. Jana Stöver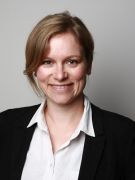 Associate Fellow
Address
Project Title:
Sustainable Development, international trade and institutions 
Mentor: Prof. Dr. Andreas Lange
_________________________________________________________________________________
**Abstract and biography available only in German**
Abstract / Kurzbeschreibung des Nachhaltigkeitsprojektes:
Mein Forschungsvorhaben Nachhaltige Entwicklung, internationaler Handel und Institutionen beschäftigt sich mit zwei Fragestellungen zur volkswirtschaftlichen Messung nachhaltiger Entwicklung. Mein Ziel ist es dabei, durch die Weiterentwicklung der Messung nachhaltiger Entwicklung zu einem besseren Verständnis des Konzepts beizutragen. Im ersten Teil des Vorhabens untersuche ich  die Auswirkungen von Institutionen und unsicheren Eigentumsrechten auf nachhaltige Entwicklung, im zweiten analysiere ich die Beziehung zwischen nachhaltiger Entwicklung und internationalem Ressourcenhandel.
Im ersten Teil des Vorhabens beschäftige ich mich sowohl theoretisch als auch empirisch mit der Analyse des Sparens von unterschiedlichen Kapitalarten unter Unsicherheit. Ich verwende hierfür ein duales Investitionsmodell, das ich mit der nationalen Umweltgesamtrechnung verbinde. Anschließend überprüfe ich das Modell empirisch.
Im zweiten Teil des Vorhabens beziehe ich die internationale Perspektive in die volkswirtschaftliche Messung nachhaltiger Entwicklung ein, indem ich den internationalen Ressourcenhandel in den nationalen Nachhaltigkeitsindikator der erweiterten Sparquote (Adjusted Net Saving) integriere.
Wissenschaftliche Kurzbiografie:
seit Januar 2018 Christian-Albrechts-Universität zu Kiel, Postdoc am Lehrstuhl für Umwelt- und Energieökonomik
06/2014 - 06/2016 Universität Hamburg, Fellow im Postdoc-Kolleg "Sustainable Future" des Kompetenzzentrums Nachhaltige Universität
Seit 12/2013 Hamburgisches WeltWirtschaftsInstitut (HWWI), Senior Researcher
11/2013 Promotion in Volkswirtschaftslehre, Universität Hamburg
09/2013 – 11/2013 OECD Development Center, Consultant
07/2008 – 11/2013 Hamburgisches WeltWirtschaftsInstitut (HWWI), Junior Researcher davon in Elternzeit: 08/2011 – 11/2011 & 11/2012 – 11/2013
04/2007 Diplom in Volkswirtschaftslehre, Humboldt–Universität zu Berlin
2005 Auslandssemester, EWHA Womans University Seoul
2003/04 Auslandssemester, Jönköping International Business School
06/2004 Vordiplom in Volkswirtschaftslehre, Humboldt–Universität zu Berlin
Weitere Engagement
Seit 2009 aktives Mitglied des tt 30 des Club of Rome
2011/12 Associate in der Arbeitsgruppe "Geo-Engineering" der Stiftung Neue Verantwortung
Schlagwörter zum Nachhaltigkeitsprojekt:
Nachhaltige Entwicklung, Unsichere Eigentumsrechte, Abbau nicht-erneuerbarer Ressourcen, Qualität von Institutionen, Green Accounting, Internationaler Ressourcenhandel, Ökologischer Fußabdruck, Bewertung von Umweltgütern