Dr. Sarah McMonagle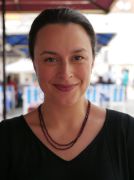 Associate Fellow
Address
Project Title:
Sustaining Linguistic Diversity in the Information Age: A Survey of Minority Language Vitality on the Internet
Mentor: Prof. Dr. Ingrid Gogolin
_______________________________________________________________________________________
**Abstract and biography available only in German**
Abstract / Kurzbeschreibung des Nachhaltigkeitsprojektes:
Es wird immer wieder betont, dass die sprachliche Vielfalt der Welt gefährdet ist. Besonders die Minderheitensprachen sind von den dominanten Weltsprachen bedroht. "Nachhaltigkeit" – als Begriff, Konzept und Zielvorgabe verstanden – wird hier also mit dem Erhalt und der Entwicklung des sprachlichen und kulturellen Reichtums verbunden. In diesem Kontext kann das Internet als zweischneidiges Schwert betrachtet werden: einerseits ermöglicht das Internet die Ausbreitung internationaler Weltsprachen (vor allem Englisch); anderseits ergeben sich neue Kommunikationsmöglichkeiten, die die Vitalität "kleinerer" Sprachen fördern. Der Stand der Forschung wissenschaftlicher Untersuchungen zu sprachvitalen Gemeinschaften im Internet ist bis heute fragmentiert.
Vor diesem Hintergrund wird das Forschungsprojekt den aktuellen Internetauftritt ausgewählter Minderheitensprachen in Europa vergleichsweise untersuchen. Es befasst sich mit den folgenden Fragestellungen:
1. Inwiefern und wie werden die Regional- und Minderheitensprachen Europas im Internet erhalten?
2. Wie kann die Vitalität solcher Sprachen wissenschaftlich bewertet werden.
Durch die Methode der digitalen Ethnographie werden digital literacies ans Licht gebracht, die immer wichtiger in der erziehungswissenschaftlichen Forschung werden.
Wissenschaftliche Kurzbiografie:
Sarah McMonagle studierte von 1997 bis 2001 European Studies am Trinity College in Dublin. Von 2003 bis 2004 belegte sie den interdisziplinären Magisterstudiengang "Euromasters" an der Universität von Bath, der Karls-Universität Prag und der Humboldt-Universität zu Berlin. 2007 begann sie ihre Promotionsarbeit zum Thema sprachliche Vielfalt im beruhigten Konfliktgebiet Nordirlands im Fachbereich Sprach-, Literatur- und Sprachwissenschaften an der Universität von Ulster, im Rahmen dessen sie sie einen Forschungsaufenthalt an der Queens Universität in Kanada verbrachte.
Neben der Arbeit an ihrer Promotion hat sie für das Bildungsministerium Nordirlands Forschung zur Sprachförderung in nordirischen Schulen durchgeführt. Nach der Promotion (2010) war sie als Beraterin des Europarats zum Thema Sprachen im virtuellen Raum tätig.
Von 2011 bis 2012 war sie DAAD-Postdoktorandin am Institut für Interkulturell und International Vergleichende Erziehungswissenschaft der Universität Hamburg. Von Oktober 2012 bis September 2014 war sie Fellow im Postdoc-Kolleg "Sustainable Future" des Kompetenzzentrums Nachhaltige Universität der Universität Hamburg. Seitdem arbeitet sie als wissenschaftliche Mitarbeiterin an der Fakultät für Erziehungswissenschaft an der Universität Hamburg.
Schlagwörter zum Nachhaltigkeitsprojekt:
Regional- und Minderheitensprachen; bedrohte Sprachen; Globalisierung; Internet; Digitalisierung; Ethnographie; digital literacies