SDG 17: Partnerships for the Goals
SDG 17 calls on us to strengthen the means of implementation and revitalization of the global partnership for sustainable development. This partnership must be based on common values and the united efforts of all those involved, as this is the only way in which the goals of the 2030 Agenda can be achieved.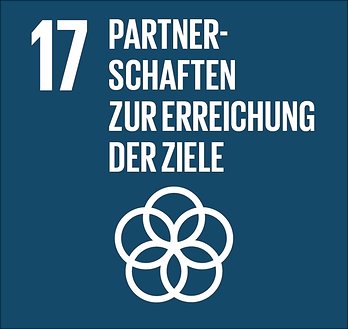 Center for a Sustainable University (KNU)
Institution: Center for a Sustainable University (KNU)
Further information: www.nachhaltige.uni-hamburg.de
---
The KNU seeks to promote the development and shaping of Universität Hamburg as a University for a Sustainable Future by following the University's guiding principle of "innovating and cooperating for a sustainable future" and addressing the Sustainable Development Goals (SDGs) and the Grand Challenges with its activities.
As part of the sponsorship of SDG 17 (Partnerships for the Goals), the KNU is assuming responsibility for the sponsorship program in a networking and support capacity. The KNU is facilitating networking between individual sponsors through events and other activities.
At present, the focus is on internal networking at Universität Hamburg. National networking regarding sustainability issues and the SDGs is being promoted by the HOCH-N project alliance. This alliance consists of 11 German higher education institutions and is headed and coordinated by the KNU. The overall aim of HOCH-N is to facilitate sustainable development at higher education institutions in Germany.
The KNU is striving to further expand its network in order to promote partnerships for achieving the goals—both internally between researchers and departments at the University and externally with other higher education institutions and facilities.