SDG 8: Decent Work and Economic Growth
SDG 8 seeks to promote sustained, inclusive and sustainable economic growth, full and productive employment and decent work for all. Compliance with labor standards is especially important here as a precondition for creating humane working conditions.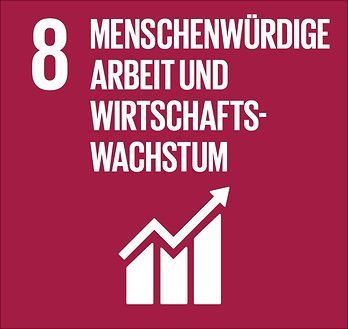 Prof. Dr. Jürgen Beyer
Faculty: Business, Economics and Social Sciences
Department(s): Social Sciences, Sociology
Profile: Prof. Dr. Jürgen Beyer
---
Prof. Dr. Wolfgang Menz
Faculty: Business, Economics and Social Sciences
Department(s): Socioeconomics, Sociology
Profile: Prof. Dr. Wolfgang Menz
---
What are your research areas? What research projects are you currently working on? How do these relate to "your" SDG?
I study new forms of work—in conjunction with processes of digitalization, marketization, and reorganization, for example—with regard to their consequences for workers. How are new forms of work influencing the relationship between work and private life? Are new ways of influencing and shaping work and private life emerging? Are new forms of stress being created? What is the relationship between our subjective requirements of work and new forms of work organization?
The core of the topic of "decent work" is closely tied to questions such as how can work be organized and shaped in a way that takes the requirements and interests of the workers into account?
Current research project: "MASTER – Management ständiger Erreichbarkeit" on how to manage having to be constantly available
How and why did you become interested in this topic?
My research has always focused on working and performance conditions as well as the subjective requirements of work (such as questions of equity). Accordingly, I am especially interested in how we define decent work or, to be more to be precise, the conditions and criteria for decent work. The issue of sustainability further expands the question of decent work by also taking into consideration the side effects of work and growth on third parties.
What activities are you planning as part of the SDG sponsorship? What possibilities do you see in (interdisciplinary) networking with other members of your sponsorship team?
It might, for example, be possible to focus on how current processes of financialization and digitalization of work and the economy can be analyzed and shaped with regard to the criteria of sustainability. It would be useful to hold a joint workshop on this and other SDGs with specialists and researchers from Universität Hamburg to facilitate networking between the University and other research institutions.
Does your topic also relate to any of the 16 other SDGs?
The issue of decent work is linked to many of the other SDGs, in particular to SDG 5 (Gender Equality), SDG 10 (Reduced Inequalities), and SDG 9 (Industry, Innovation and Infrastructure).