SDG 10: Reduced Inequalities
SDG 10 calls on us to reduce inequalities within and among countries. The increasing social and economic inequality, which is also regarded as one of the relevant causes of migration, poses one of the greatest challenges. Less inequality would strengthen social cohesion within a society while at the same time fostering sustainable development.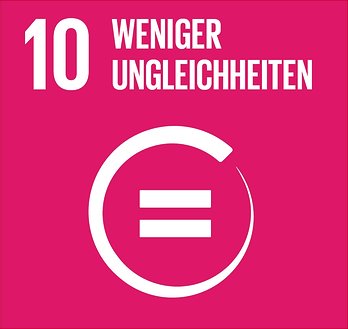 Prof. Dr. Melanie Krause
Faculty: Business, Economics and Social Sciences
Department(s): Economics
Profile: Jun.-Prof. Melanie Krause, PhD
---
What are your research areas? What research projects are you currently working on? How do these relate to "your" SDG?
I examine questions relating to the generation and distribution of wealth within the framework of long-term economic growth and sustainable development. I study income inequalities both within countries, and between richer and poorer countries. In this regard, SDG 10 (Reduced Inequalities) is a direct focus of my work.
Together with Prof. Dr. Christian Lessmann (Technische Universität Braunschweig) and Dr. Richard Bluhm (Leibniz University Hannover), I am currently leading the project Shining (New) Light on Regional Inequality, Convergence and Development financed by the German Research Foundation (Deutsche Forschungsgemeinschaft, DFG). In this project, we are using satellite data from nighttime lights as an indicator of local economic activity to learn more about regional inequality in countries.
How and why did you become interested in this topic?
Ever since my university studies, I have been interested in discovering why we see such large differences in wealth between countries and why individual regions within a country can develop so differently. The role of globalization and technological change in the development of income inequality between urban and rural areas is an issue of great current topicality. I am especially excited by the opportunity to use new, geo-referenced data sources such as satellite data to help advance knowledge on this topic.
What activities are you planning as part of the SDG sponsorship? What possibilities do you see in (interdisciplinary) networking with other members of your sponsorship team?
Interdisciplinary networking offers new possibilities for expanding our research horizons. This means my perspective on income inequality can be combined with the educational (in)equality and equal opportunity perspectives of other members of the sponsorship team.
Does your topic also relate to any of the 16 other SDGs?
As an economist focusing on issues of wealth and distribution as well as regional and urban development, I believe that SDG 10 (Reduced Inequalities) is directly connected to the following SDGs:
SDG 1 (No Poverty)
SDG 8 (Decent Work and Economic Growth)
SDG 11 (Sustainable Cities and Communities)
Prof. Dr. Ingrid Gogolin
Faculty: Education
Department(s): General, Intercultural and International Comparative Education (EW 1)
Profile: Prof. Dr. Dr. h.c. mult. Ingrid Gogolin
---
What are your research areas? What research projects are you currently working on? How do these relate to "your" SDG?
The Sustainable Development Goals cannot be achieved if their intent and purpose cannot be communicated in such a way that members of society understand and are able to transfer these into precepts of action. This relates to the dimension of Education for Sustainable Development as a whole. Specifically, I am interested in my research in determining what linguistic abilities are required to understand complex demands of one's own actions in the context of sustainability and how young people can learn to acquire these abilities. This question is even more important given that the population of the Federal Republic of Germany is multilingual—as is the case in most regions of the world. This necessitates a complex transfer of academic knowledge regarding sustainability to widespread, everyday knowledge regarding sustainability, and to the ability to act in accordance with this knowledge in a linguistically and culturally heterogeneous society.
The collaborative project "Multilingualism as a Resource of the Sustainable University" is a good example of this.
How and why did you become interested in this topic?
Generally speaking, my research revolves around how we can maintain (where already present) or achieve social coherence in an increasingly complex situation characterized by diversity. While education is the basis for this, it is no guarantee. The ability to understand and take action in complex situations is one of the objectives of education—take sustainable development, for instance.
Is your topic related to any of the 16 other SDGs?
SDG 4 (Quality Education) is obviously closely related. But it is essential for members of a society to be able to understand aspirations and ideally to act in accordance with these so that they can participate in the realization of all SDGs in everyday life.